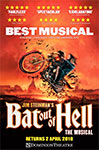 Bat Out of Hell The Musical
ב Dominion Theatre
מחיר החל ₪ 313.20
Jim Steinman's epic rock'n'roll theatrical fantasy Bat Out of Hell the Musical, when it explodes onto the Dominion Theatre in April 2018.

Highlights:
- Experience Bat Out of Hell the Musical in London
- Secure your tickets to the bound to be popular musical
- Choose your own seats
- Enjoy the amazing rock'n'roll theatrical fantasy musical
- Listen to 17 of Meat Loaf's greatest hits

Enjoy Bat Out of Hell the Musical
Join the eternally young Strat and his wild gang, The Lost, as they roam the streets of Obsidian, a post-apocalyptic Manhattan, ruled by the wicked and tyrannical Falco.

When Strat first sets eyes on Falco's daughter, Raven, who has been locked away in the palace towers, he sets out to rescue her from her evil father's clutches in a full throttle tale of teenage love, youthful rebellion and living the rock and roll dream.

Bat Out of Hell is a breath-taking new musical that features 17 of Meat Loaf's greatest hits including I'd Do Anything for Love, Paradise by the Dashboard Light, You Took the Words Right Out of My Mouth (Hot Summer Night), Dead Ringer For Love, Two Out of Three Ain't Bad, Bat Out of Hell and more.

How do I get my tickets?
Shortly after your booking is complete, you will receive an e-ticket by email. Please print out your ticket and bring it with you to the theater.
Bat Out of Hell The Musical ביקורת
"I CAN'T REMEMBER WHEN I LAST SAW A STANDING OVATION AT THE INTERVAL"
The Sunday Times
---
"IT'S LOUD, EXHILARATING AND BLOWS YOUR SOCKS OFF"
The Independent
---
"A NIGHT THAT WILL MAKE YOUR JAW DROP, YOUR HEART SOAR AND HAVE YOU SINGING ALONG"
WhatsOnStage
---
"HELLISHLY HARD TO RESIST"
The Daily Telegraph
---
פרטי האירוע
הראה פרטים
הזמנה מ
2018-12-21
הזמנה עד
2019-01-05
זמן מופע:

כיוונים

The theatre can be seen from the station, on the corner of the crossroads between Tottenham Court Road and Oxford Street.

צפו במפה